Cruise ship transfer services for groups
- groups that want luxury with convenience and affordability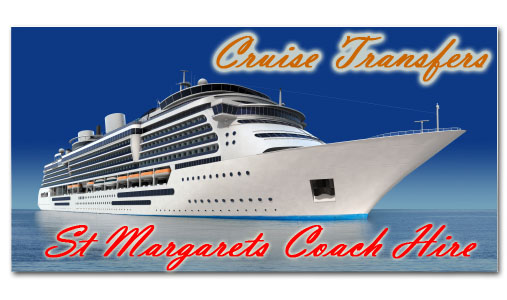 For many years we have serviced the main cruise ports of Harwich, Dover and Southampton, St. Margaret's providing luxury group transport for cruise ship transfers with it's latest fleet of fully equipped executive coaches.
Services include sea port to sea port cruise transfer as well as airport to seaport transfer covering journeys to and from all the major airports including cruise transfers to and from Heathrow, Gatwick, Stansted to your cruise ship at Dover, Southampton and Harwich cruise terminal. We transfer our clients to the their cruise ship with the minimum of fuss and maximum of comfort and convenience.
You may be looking for a direct cruise ship transfer or may have time in the cruise schedule for some additional activity en route such as sightseeing or shopping. Call or email us with your cruise ship transfer requirements and we'll be pleased to arrange a 5 star service for you and your group.